Natocare Plus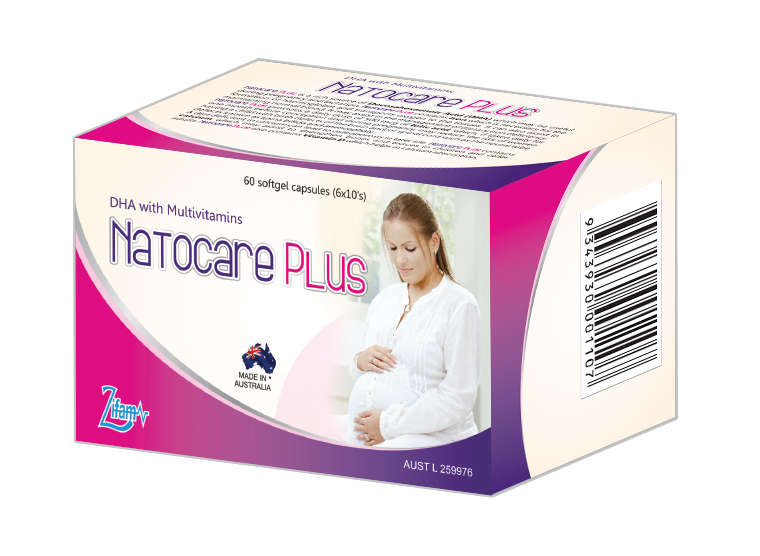 Composition:
Each softgel capsule contains:
Riboflavin (Vitamin B2)—————————————-0.7 mg
Calcium pantothenate —————————————–2.73 mg
Fish oil- natural————————————————-500 mg
Equiv. to pantothenic acid (Vitamin B5)———————2.5 mg
Equiv. to Docosahexaenoic acid (DHA)———————-125 mg
Pyridoxine hydrochloride————————————–1.16 mg
Equiv. to Eicosapentaenoic acid (EPA)———————-25mg
Equiv. to Pyridoxine (Vitamin B6)—————————950 meg
Nicotinamide (Vitamin 83)———————————–9mg
Cyanocobalamin (Vitamin 812)——————————-1.3 meg
Ascorbic acid (Vitamin C) ————————————-30 mg
Cholecalciferol————————————————–5meg
Calcium carbonate———————————————-50 mg
Equiv. to cholecalciferol (Vitamin 03)————————2001U
Equiv. to calcium ———————————————–20 mg
Folic acid——————————————————–0.25 mg
Biotin (Vitamin H)———————————————15 meg
d-alpha-tocopherol (Natural Vitamin E)——————–3.5 mg
Iron (II) glycinate (Ferrous bisglycinate)——————-45.9 mg
Equiv. d-alpha-tocopherol———————————-5.221U
Equiv. to iron————————————————–12 mg
Potassium iodide ———————————————98.3 meg
Zinc oxide ——————————————————6.82 mg
Equiv. to Iodine ———————————————–75meg
Equiv. to zinc ————————————————–5.5mg
Betacarotene—————————————————2.4 mg
Magnesium oxide-heavy ————————————-83mg
Copper gluconate ——————————————–4.67 mg
Equiv. to magnesium —————————————-50 mg
Equiv. to copper———————————————-0.65 mg
Selenomethionine —————————————— 81.25 meg
Equiv. to selenium——————————————-32.5 meg
Manganese amino acid chelate—————————-25 mg
Chromium picolinate ————————————–121 meg
Equiv. to manganese—————————————2.5 mg
Equiv. to chromium—————————————-15 meg
Thiamine hydrochloride (Vitamin B1) ——————-0.8mg
Indications:
Natocare Plus is a rich source of Docosahexaenoic Acid (DHA) which may be useful during pregnancy and lactation. Natocare Plus contains Iron which is necessary for the formation of haemoglobin and transports oxygen to the tissues. It can also assist in maintaining normal blood. It may assist in the management of dietary iron deficiency.
Natocare Plus provides a daily dose of 500 meg of folic acid, which, if taken daily for one month before conception and
during pregnancy, may reduce the risk of women having a child with birth defects of the brain and/or spinal cord such as the neural tube defects known as spina bifida and anencephaly.
A diet deficient in calcium can lead to osteoporosis in later life. Natocare Plus contains calcium which may assist to strengthen bones and tissues in children and older adults. Natocare Plus also contains Vitamin D which helps in calcium absorption.
Dosage: One softgel capsule twice daily or as advised by your healthcare practitioner. To be swallowed with water.
Vitamin and mineral supplements should not replace a balanced diet. If symptoms persist, consult your healthcare practitioner. Do not exceed the stated dose except on medical advice. If you had a babywith neural tube defect /spina bifida, seek specific medical advice. Natocare Plus contains pyridoxine which may be dangerous when used in large amounts or for a long time. This product contains selenium which may be toxic in high doses.A daily dose of 150 micrograms for adults of selenium from dietary supplements should not beexceeded.
Tested for mercury and heavy metals.
Storage: Store below30″C, away from direct sunlight. Keep away from children.
Presentation: Blister pack of 6x 10 Natocare Plus softgels.
Description:
Fish Oil Natural: Natocare Plus contains marine triglycerides providing a mixture of Eicosapentanoic acid (EPA) and Docosahexanoic acid (DHA), the omega-3 marine fatty acids which can be synthesized from alpha-linolenic acid or obtained directly from maternal milk or fish oil. It is essential for the growth and functional development of the brain in infants. DHA is also required for maintenance of normal brain function in adults. An optimal intake of DHA is especially essential for pregnant and nursing mothers to ensure adequate brain development in their children.
Nicotinamide (Vitamin 83): It is an important water soluble vitamin. It may help in producing energy by converting food into glucose. Itmay halp reducetiredness and fatigue.
Ascorbic Acid (VItamin C): It is a water-soluble vitamin. It enhances absorption of iron, either by reducing it or preventing itschelation by phytates.
Calcium: It is essential for the maintenance and development of healthy bones and teeth. It is required to meet increased needs during pregnancy.
Biotin: It is a water soluble vitamin which produces energy, fatty acids and amino acids that activates its metabolism in the hair roots and fingernail cells.
Iron: It is an essential mineral. It is an important component of haemoglobin, the substance in red blood cells that carries oxygen from the lungs to transport it throughout the body. Haemoglobin represents about two-thirds of the body's iron. Iron also plays a role in many important chemical reactions in the body.
Zinc: It is an essential mineral during pregnancy for proper growth and development. It plays a role in cell division,cell growth, wound healingand the breakdown of carbohydrates.
Magnesium: It is a very important mineral for normal functioning of cells, nerves, muscles, bones and heart. It is a mineral essential for blood pressure and glucose regulation, muscle and nerve function.
Selenium: It is a trace element essential for the appropriate course of vital processes in the human body. Selenium plays a significant role in the undisturbed functioning of the reproductive system. Selenium deficiencies may lead to gestational complications, miscarriages and the damaging of the nervous and immune systems ofthe foetus.
Chromium: It is a trace mineral that helps the body break
down and store fats, carbohydrates and protein. It also works with the hormone insulin to maintain normal levels of glucose inthe body.
Thiamine Hydrochloride (VItamin 81): It is a water soluble vitamin that enables a pregnant woman and her baby to convert carbohydrates into energy. It is essential for your baby's brain development and aids the normal functioning of your nervous system, muscles and heart.
Riboflavin (Vitamin 82): It is a vitamin that is needed for growth and overall good health. It halps the body break down carbohydrates, proteins and fats to produce energy and it
allows oxygen to be used bythe body.
Pantothenic acid (Vitamin 85): It is an essential water soluble vitamin in pregnancy. A pregnant woman needs a higher amount of Pantothenic acid.
Pyridoxine (Vitamin 86): It is a water soluble vitamin which plays vital roles in numerous metabolic processes in the human body and helps with the development of the nervous system.
Cyanocobalamin (Vitamin 812): It is an important water soluble vitamin. It is required for the normal functioning of blood cells. It works closely with folic acid, to form red blood cells and to help iron work better inthe body.
Cholecalciferol (Vitamin 03): It is afat soluble vitamin used for the prevention and treatment of Vitamin D deficiency. Cholecalciferol may help to prevent the problems usually associated with Vitamin D deficiency such as osteoporosis, muscle weakness, increased risk of bone fractures in infants and unborn babies. It helps the body to absorb calcium and phosphorus.
Folic Acid: It is an essential nutrient that is a part of the Vitamin B family. Folate is needed to form red blood cells, which carry oxygen around the body. The most important benefit of folic acid is for the development of the foetus. Irs vital that women in early pregnancy have enough folic acid, as it can help reduce the risk of spinal cord defects, such as spina bifida. It may help the development of the foetal nervous system, as well as DNA synthesis and cell growth.
d-alpha Tocopherol (Vitamin E): This is a fat soluble vitamin which is a powerful anti-oxidant protecting cells from free radical damage. It may help in the elimination of blood clots, which may help to avoid heart attacks. Studies have shown that people with a high intake of Vitamin E are less prone to heart-related diseases.
Iodine: An adequate intake of iodine during pregnancy is essential for the synthesis of maternal thyroid hormones and normal brain development inthe fetus.
Betacarotena: It is a form of Vitamin A-a fat soluble vitamin, essential for growth, development and differentiation of a number of cells and tissues.
Copper: It is a trace mineral found in all plant and animal tissues, essential for forming red blood cells.
Manganese: It is a mineral which helps during pregnancy to form bone and cartilage.