Protinet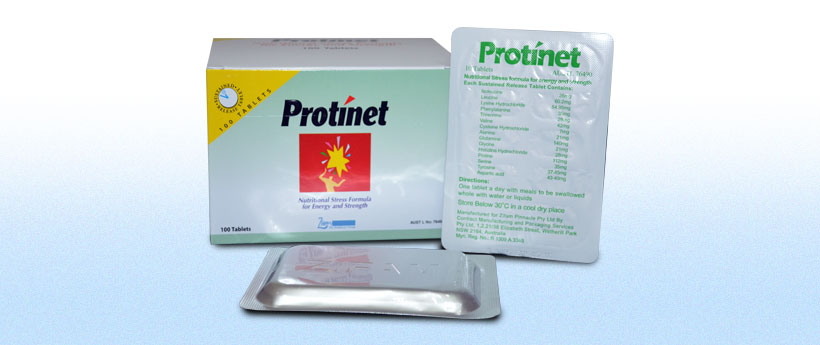 Each sustained-release tablet contains
Isoleucine
35mg
Leucine
60.2mg
Lysine HCL
54.95mg
Phenylalanine
35mg
Threonine
35mg
Valine
42 mg
Cysteine HCL
7 mg
Alanine
21 mg
Glutamine
140 mg
Glycine
21 mg
Histidine HCL
28 mg
Proline
112 mg
Serine
35 mg
Tyrosine
37.45 mg
Aspartic acid
43.40 mg
Protinet is an excellent source of essential amino acids high concentrations. It is suitable for people on strictly vegetarian diet which is low in proteins, stressful lifestyle conditions, people on low or restricted diet, muscle building sports enthusiasts.
Indications
Aids, assists or helps in the maintenance or improvement of general well-being.
Beneficial during times of stress for energy and strength
Dosage & Administration
1 tab a day with meals or as recommended by the physicians.
Pack Size:
10 x 10's

ကုန္စည္အမ်ိဳးအမည္
ခႏၶာကိုယ္အတြက္ မရွိမျဖစ္လိုအပ္ေသာ Essential Amino Acid ပရိုတင္းအသားဓာတ္ႏွင့္ အေရးႀကီးေသာအသားဓာတ္ စုစုေပါင္း (၁၄) မ်ိဳးျဖင့္ ျပည့္စံုစြာ ေပါင္းစပ္ထားသည့္ အားေဆးျဖစ္သည္။
သံုးစြဲပံုအညႊန္း
တစ္ေန ့တစ္လံုး အစာႏွင့္တြဲေသာက္ပါ။ (သို႔မဟုတ္) ဆရာဝန္ညႊန္ၾကားခ်က္အတိုင္းေသာက္ပါ။
ေဘးထြက္ဆိုးက်ိဳး
မရွိပါ။
ထားသိုသိမ္းဆည္းပံုအညႊန္း
အပူခ်ိန္ ၃၀ ဒီဂရီစင္တီဂရိတ္ေအာက္၊ ေအး၍ေျခာက္ေသြ႔ေသာေနရာတြင္ ထားပါ။
အရြယ္အစား၊ အေရအတြက္ ႏွင့္ အသားတင္ပမာဏ
ေဆးတစ္ကတ္စီ္တြင္ ေဆးျပား(၁၀)ျပား ပါ၀င္ျပီး ေဆးကတ္(၁၀)ကတ္ပါ၀င္ေသာ ကတ္ထူစကၠဴဘူးျဖင့္ ထုတ္ပိုးထားသည္။