Clofen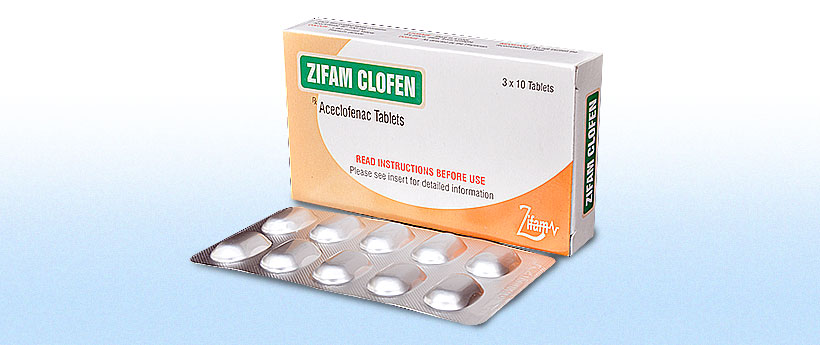 Each film coated tablet contains:
Aceclofenac BP ………..100 mg
Excipients ……………q.s.
Colour: Titanium Dioxide
DESCRIPTIONS
Aceclofenac is a non-steroidal agent with marked anti-inflammatory and analgesic properties. Aceclofenac has higher anti-inflammatory action than conventional NSAIDs. It is a cytokine inhibitor. Aceclofenac works by blocking the action of a substance in the body called cyclo-oxygenase. Cyclo-oxygenase is involved in the production of prostaglandins(chemicals in the body) which cause pain, swelling and inflammation.
INDICATIONS
ZIFAM CLOFEN is indicated for the relief of pain and inflammation in osteoarthritis, rheumatoid arthritis and ankylosing spondylitis.
CONTRAINDICATIONS
ZIFAM CLOFEN is contraindicated in patients with hypersensitivity to aceclofenac or to any of the excipients; Active, or history of recurrent pepti ulcer/haemorrhage;
Severe heart failure, hepatic failure and renal failure; History of gastrointestinal bleeding or perforation, related to previous NSAIDs therapy.
Precautions:
ZIFAM CLOFEN should be administered with caution in patients with acidpeptic disease, inflammatory bowel disease, impaired renal or liver functions,
blood dyscrasias, SLE, porphyria, hematopoietic and coagulation disorders, and in patients with hypersensitivity to aspirin or other NSAIDs.
Undesirable effects such as dizziness, drowsiness, fatigue and visual disturbances are possible after taking NSAIDs. If affected, patients should not drive or operate machinery.
Interactions:
Aceclofenac could interact with oral thrombolytics, diuretics, cyclosporine, tacrolimus, phenytoin, digoxin,cimetidine, tolbutamide, phenylbutazone, amiodarone,
miconazole, sulfaphenazole, methotrexate, lithium and highly protein-bound drugs.
Use in Pregnancy & Lactation:
Aceclofenac should not be used in pregnant women and nursing mothers unless the potential benefit to the patient outweighs the potential risk to the foetus.
Adverse Effects:
The most common side effects are gastric pain, flatulence, nausea, vomiting, diarrhea &dyspepsia ; rarely peptic ulcer and gastrointestin bleeding occur.
Infrequently, hypersensitivity reactions, skin reactions, taste perversion, malaise, change in appetite and weight, edema, palpitations, flushing, purpura and eye disorders are possible due to aceclofenac. Neurological reactions possible include headache, drowsiness, insomnia, irritability and mood disturbances. ZIFAM CLOFEN can rarely cause hepatitis, renal dysfunction and blood dyscrasias on account of its aceclofenac content.
Dosage & Administration:
Aceclofenac tablets are supplied for oral administration and should be swallowed whole with a sufficient quantity of liquid. Aceclofenac should be taken preferably with or after food.
Adults: The recommended dose is 200mg daily, taken as two separate 100mg doses, one tablet in the morning and one in the evening.
Children: There are no clinical data on the use of Aceclofenac in children and therefore it is not recommended for use in children.
Overdosage:
Symptoms include headache, nausea, vomiting, epigastric pain, gastrointestinal irritation, gastrointestinal bleeding, rarely diarrhoea, disorientation, excitation,
coma, drowsiness, dizziness, tinnitus, hypotension, respiratory depression, fainting, occasionally convulsions. In cases of significant poisoning acute renal failure and liver damage are possible.
Treatment: within one hour of ingestion of a potentially toxic amount, activated charcoal should be considered. Alternatively, in adults, gastric lavage should be considered within one hour of ingestion of a potentially life-threatening overdose. Good urine output should be ensured. Renal and liver function should be closely monitored. Patients should be observed for at least four hours after ingestion of potentially toxic amounts. In case of frequent or prolonged convulsions, patients should be treated with intravenous diazepam. Management of acute poisoning with NSAIDs essentially consists of supportive and symptomatic measures.
Presentation:
3 blisters of 10 tablets each.