Zicam7.5/15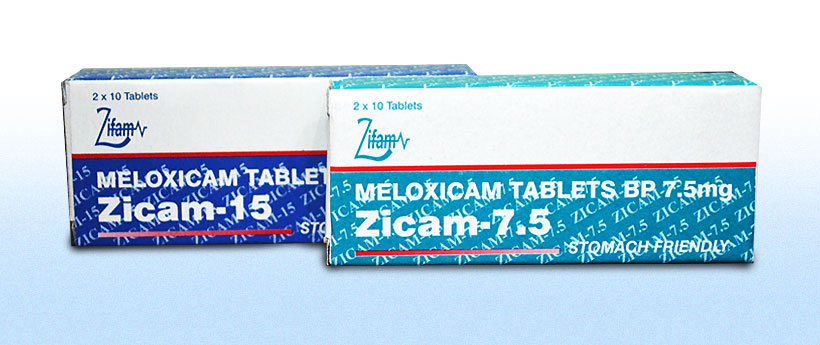 COMPOSITION
Meloxicam
DESCRIPTION
Meloxicam belongs to the class of NSAIDs (nonsteroidalanti-inflammatory drugs). In particular, it is a selective COX-2 inhibitor.Hence, it has reduced potential to cause gastritis and renal side effects.
INDICATIONS
Treatment of rheumatoid arthritis, osteoarthritis and all types of pain and inflammation.
DOSAGE & ADMINISTRATION
Osteoarthritis: 7.5 mg/day. If necessary in the absence of improvement, the dose may be increased to 15 mg/day.
Rheumatoid Arthritis: 15 mg/day. In elderly patients with rheumatoid arthritis, the recommended dose for long-term treatment is 7.5 mg/day. Patients with increased risk for adverse reactions should start treatment with 7.5 mg/day. The total dose of 15 mg/day should not be exceeded.
The total daily amount should be taken as a single dose, with water or any other liquid, during a meal. Dosage adjustment is required in patients with end-stage renal failure or hemodialysis, with an upper dose limit of meloxicam 7.5 mg/day.
CONTRAINDICATIONS
Patients having hypersensitivity to meloxicam or to any of the excipients of Zicam. In patients consuming meloxicam, the possibility exists of crossover sensitivity with aspirin and other NSAIDs.
Patients who have developed signs of asthma, nasal polyps, angioneuroticoedema or urticaria following the administration of aspirin or other NSAIDs. Patients who have active peptic ulcer during the last 6 months; a history of recurrent peptic ulcer disease; severe hepatic failure; non-dialysed severe renal failure; gastrointestinal and cerebrovascular bleeding or other bleeding disorders. Pregnant women and lactating mothers.
PRECAUTIONS
Patients prescribed with meloxicam should be monitored for any gastrointestinal disorders. They should be informed about the risk of peptic ulceration, perforation and haemorrhage associated with meloxicam.
Meloxicam should not be co-prescribed with othernonsteroidal anti-inflammatory agents.
ADVERSE EFFECTS
The adverse effects occur occasionally and are mild to moderate in severity and are transient. Gastrointestinal: Dyspepsia, nausea, vomiting, abdominal pain, constipation, flatulence, diarrhoea, transitory disturbance of liver function tests (eg, raised transaminases or bilirubin).
Hematological: Like all NSAIDs, disturbance of blood count, differential white blood cell count, anaemia, leukopenia, thrombocytopenia may occur. But only certain adverse effects among the listed have been attributed to treatment with meloxicam. Cutaneomucosal: Stomatitis, oesophagitis, pruritus, skin rash, urticaria, photosensitisation have been reported. Respiratory: Onset of an asthma attack in certain individuals allergic to aspirin or to other NSAIDs. Central Nervous System: Lightheadedness, headache, vertigo, tinnitus, drowsiness. Cardiovascular System: Pedal oedema, palpitations, flushes.
PRESENTATION
Tab 7.5 mg x 10's. 15 mg x 10's.